We are all about Water Beds and TV Beds
Frequent Waterbed Questions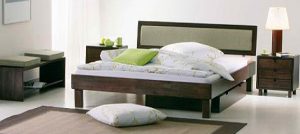 Many customers have bought a Waterbed because they are so comfortable but there are more reasons than just for comfort. A lot of customers have come to us on doctors advice if they have BACK PROBLEMS. The water mattress fully supports your body and keeps your vertebrae straighter and under less stress. This coupled with the heater which comes with all waterbeds also gives a therapeutic warmth which allows the muscles to relax.
Another reason is HYGIENE, whereas conventional beds gather dust, dirt and dampness over the years, waterbeds are simply wiped clean. The waterbed has an ideal sleeping surface for ASTHMA sufferers and anyone else who suffers from allergies.
The most common questions are ;
Will a waterbed be too heavy on my floor? and will I get seasick?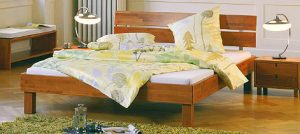 The answer to both is a definite NO. The waterbed base is designed to evenly spread the weight of the bed and causes less pressure on the floor than your bathtub. Any house built to standard regulations can easily support a waterbed. No-one has ever claimed to feel seasick on a waterbed, the mattresses can be bought with baffles inside which reduce the motion of the bed. The bed actually helps you go to sleep quicker. People with disturbed sleeping patterns such as INSOMNIA will find the therapeutic effect of sleeping on a flotation mattress increases the ease of falling asleep.
We only deal with manufacturers that are of the highest standard and that offer excellent value. Unlike some retailers who deal with one brand and tell you they are the best around (because that's all they can get!), we have a choice of manufacturers such as
STERLING
CHRISTIAN ELISE
T.T.I
HIGH & DRY
ECLIPSE
MERMAID WATERBEDS
For more information on waterbeds and availability, please do not hesitate to give us a call on 07711 614913
What happens if it leaks?
Waterbed mattresses are extremely tough, and are most unlikely to puncture in almost any circumstances, unless attacked directly with a pointed instrument. If this did happen however, the water would be contained within the bed by a separate outer waterproof layer that is part of the bed, preventing any leakage onto the floor.
Do I need my floor reinforced to take the weight?
No! waterbeds have a special base that spreads the weight of the bed evenly across the floor. In any case, a waterbed weighs no more than about 4 people. We have installed more than 1500 waterbeds in all types of homes, and have never had any problems with weight.
Will a waterbed make me seasick?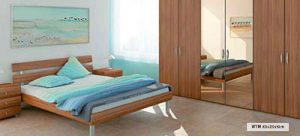 The motion of a waterbed is very relaxing and after a little getting used to, virtually everyone enjoys it. The motion is less than people expect, and we have never had complaints of seasickness. Waterbed mattresses are available with no movement whatsoever if required.
Do I need an electric blanket?
All our waterbeds are temperature controlled, so you can keep them hot in the winter and cool in the summer.
Will it be good for my back?
Absolutely – eight hours of therapy every night – see the backache report by a qualified physiotherapist.
How much does it cost to run?
Not a lot! The heater costs about £15 annually, given use at average temperatures, also a bottle of water conditioner which keeps the water fresh should be added twice a year at a cost of £5 a bottle. This works out at about 50p a week.
How long does it take to get used to?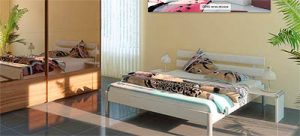 Usually only one or two nights. However, once you are used to it you will never want to go back to an ordinary bed. This knowledge comes from our satisfied customers who have purchased our beds.
I suffer from asthma – will a waterbed help?
All waterbeds sold by us have a removable, washable top. Underneath this is the water mattress which can also be cleaned. A porous spring mattress used in ordinary beds is a breeding area for dust mites which feed on hair and tiny flakes of skin. It is the dust mite that most asthmatics are allergic to, and replacing the spring mattress with a water mattress, provides relief for most people with breathing problems.
Will a waterbed help me sleep?
A waterbed works by distributing body weight evenly which is in contact with the bed. This eliminates pressure points and keeps a natural shape to your body, thus avoiding aches and pains.
For more information on waterbeds and availability, please do not hesitate to give us a call on 0800 0732 404